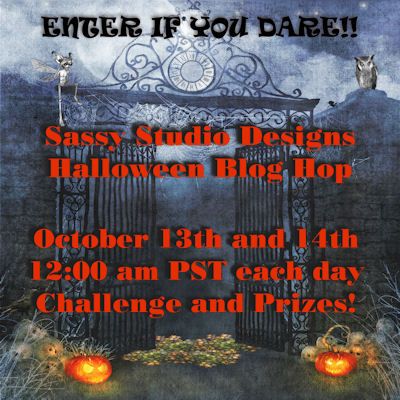 It is a release over at
Sassy Studio Designs
, and have they got three great new images for you! I love all three, but I am a little partial to the one below. It's in her eyes I think!!!! You should have arrived from
Karal's blog
. If not - head on over to the blog to get it started. What the heck - you should check it out anyway because they had the first part of the hop yesterday and there were some AMAZING works displayed.
Now the hop today had a special theme. It was to play a little game of BINGO. I chose to use the diagonal left bottom to right top.
So here is my Bloody, Ghouly, FreeSpace, Bag with Tombstones and a Spider Web.
My project for the hop not only features one of the new images, but it is also for two challenge blogs that Sassy Studio Designs is sponsoring today - Maybe it should be spelled TWODAY!
The first is for the
Vintage Elusions Challenge Blog
- and the challenge is Ephemera / Anything Goes - And I think that the ghosts and the Grim Reaper work so very well for this challenge since ephemera essentially means things that do not stick around. :-)
The second challenge that we are sponsoring this week is for the
Corrosive Challenge Blog
- with the theme of Treacherous Treats - make a treat holder. Well what is more treacherous than the Grim Reaper? Although she is a very pretty reaper if I do say so myself!!!
Your next stop on our hop is
Rina's Wonderful site
(I had an error earlier I am sorry if I was the one to get you lost). If you get lost the entire blog hop list is below. Oh and be sure that you leave some loving for the different ladies as there will be some randomly selected comments to win some prizes. And then why don't you just sit down and play some BINGO along with us!!! :-)
Regan
http://charmedstamping.blogspot.com/
Susan
http://stampingtink.blogspot.com

Lori
http://lorib117.blogspot.com/
Karal
http://karalscreativespace.blogspot.com/
Alaine
http://www.missalaineousmosaics.blogspot.com/
<-- That's Me. :-)
Rina
http://scrapbookfashionistadesigns.blogspot.com/
Rebecca
http://sydneyssentiments.blogspot.com/
Jackie
http://stampingsister.blogspot.com
Erin
http://elfiessparkleanddust.blogspot.co.uk/

Jovan
http://www.cardsbyjovan.com/
Carrie
http://carrieshandmadecards.blogspot.co.uk/
Sara
http://luminousinmychaoticdreamslife.blogspot.com/
SSD
http://sassystudiodesigns.blogspot.com/
Colors Used
Cape - BV02, 04, 08, C7
Gown - BV31, 34, YG21, 23, BV04
Skin and Scythe - C0,1,3,5
Eyes - YG21, 23
Hope to see you back here again soon!!!!!